Are you struggling to get rid of stubborn pockets of fat despite following a healthy diet and exercise routine? If so, you may be a good candidate for 3D Cold Lipo Laser treatment. This advanced technology is designed to target and eliminate fat cells that are resistant to traditional weight loss methods, helping you achieve the body contour you desire.
Laser Lipo is a non-invasive treatment that uses a combination of cooling and laser technology to selectively target fat cells without damaging surrounding tissues. The procedure is painless and requires no downtime, allowing you to return to your daily activities immediately after the treatment.
What is 3D Lipo Laser?
3D Lipo Laser is the newest technology in body contouring and cellulite reduction treatment. It is non-invasive, requires no downtime and offers long-lasting results! It works by using 3 different wavelengths of lasers to penetrate the deepest, most stubborn fat layers.
3D Lipo Laser can be used independently or in combination with other body contouring technologies. When used as part of a comprehensive treatment plan, results can be seen faster and tend to last longer, requiring less maintenance. At Toronto Weight Loss and Wellness Clinic, a full course of fat reduction includes: 3D Lipo Laser, Infrared optical energy (IR), Bipolar Radio Frequency (FR) and Mechanical Massage.
How does it work?
Laser fat removal is a non-invasive procedure that utilizes a cold laser to target hardened fat tissue located just beneath the skin's surface. Unlike liposuction, which involves physically removing fat cells, Lipo Laser prompts the fat cells to release their contents, resulting in a reduction in their size. The body then naturally eliminates the unwanted waste through the lymphatic detoxification system.
Does it really work?
Independent clinical studies have shown that 3D Lipo Laser to be, in some cases, comparable to results achieved by liposuction. Ultrasound imagery shows up to a 30% reduction in the fat layer depth just after one treatment.
Abdomen
Full Body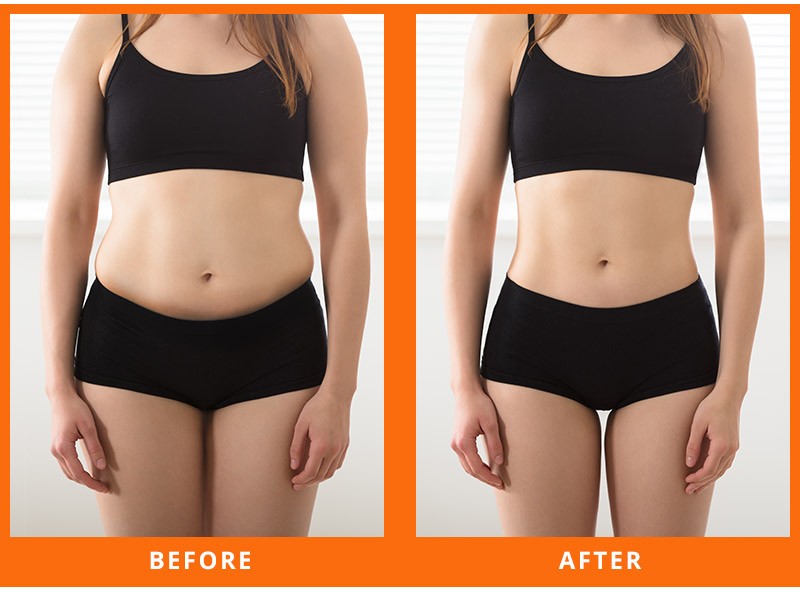 Love Handles
Thighs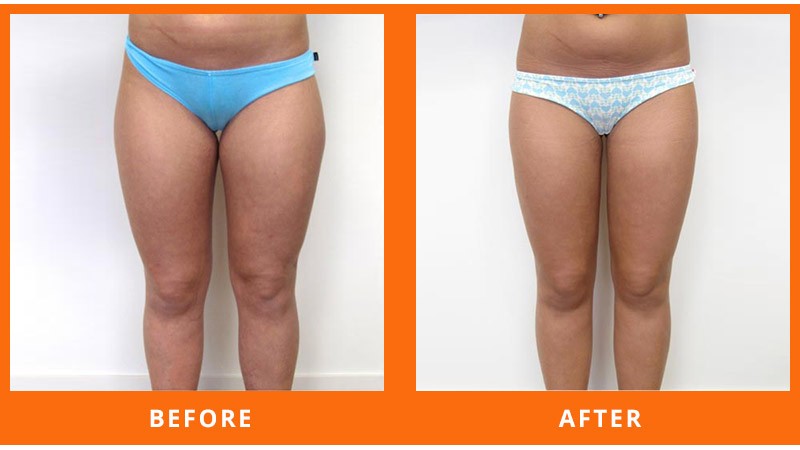 How long does it take to see results?
Results may vary by individual, but typically patients may see a decrease in abdominal circumference after the first treatment. A course of 8 treatments is recommended over 4 weeks with 2 treatments per week.
Light exercise post treatment can accelerate the removal of the released fat. As part of your treatment, complimentary TurboVibe sessions are offered. Vibration therapy is a well-known technology used to increase muscle mass and tone, improve flexibility and coordination, enhance circulation and maximize weight loss. One 10 minute Turbovibe vibration therapy session is equivalent to 60 minutes of conventional exercise!
Is it safe?
Laser fat removal, also known as Lipo Laser or 3D Lipo Laser, is a safe and painless procedure that utilizes low levels of laser light to stimulate the targeted fat tissue. This bio-stimulation effect activates the body's natural chemical pathways, resulting in the release of stored energy resources. The treatment does not cause any harm to the body tissues, including cells, blood vessels, nerves, or vital organs.
The beauty of Laser fat removal is that it is suitable for all skin types and can be performed on various body areas where unwanted fat is stored. The procedure is non-invasive, meaning there is no need for incisions or anesthesia. Additionally, there is no downtime required, allowing patients to return to their normal activities immediately after treatment.
Say goodbye to stubborn fat and hello to a slimmer, more contoured physique with Laser fat removal. Contact our Toronto Weight Loss and Wellness Clinic to learn more about this cutting-edge technology and schedule a personalized consultation today.
What areas can be treated with 3D Lipo Laser?
Lower and/or upper abdomen
Love handles
Hips
Inner and/or outer thighs
Upper or lower back fat
Underarm
Above and around knee area
Calves
Double chin